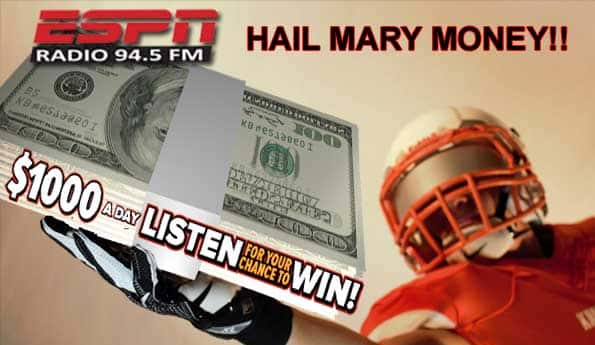 Hail Mary Money Is Back!!
ESPN 94.5 Is Giving You 18 Chances To Enter For A Chance At $1,000 Cash -5 Days A Week For 5 Weeks!
Listen From 6a-8p Monday Thru Friday With A Bonus Keyword In The 10a-12p-2p And 5p Hours For Your Word That Wins!
When You Hear The Word Announced Each Hour…Write It Down Then CLICK HERE And Enter The Word That Wins Online And You Could Win $1,000!!!

Must Be 18 Years Or Older To Play.
"This Is A Contest Being Conducted By A Large Number Of Radio Stations Nationwide And One Winner Will Be Chosen Each Day"